'We've been expecting you, Mr Bond.' The words rang out across the deserted hangar as the Violet Lady – nicknamed the Violent Lady – strode towards her adversary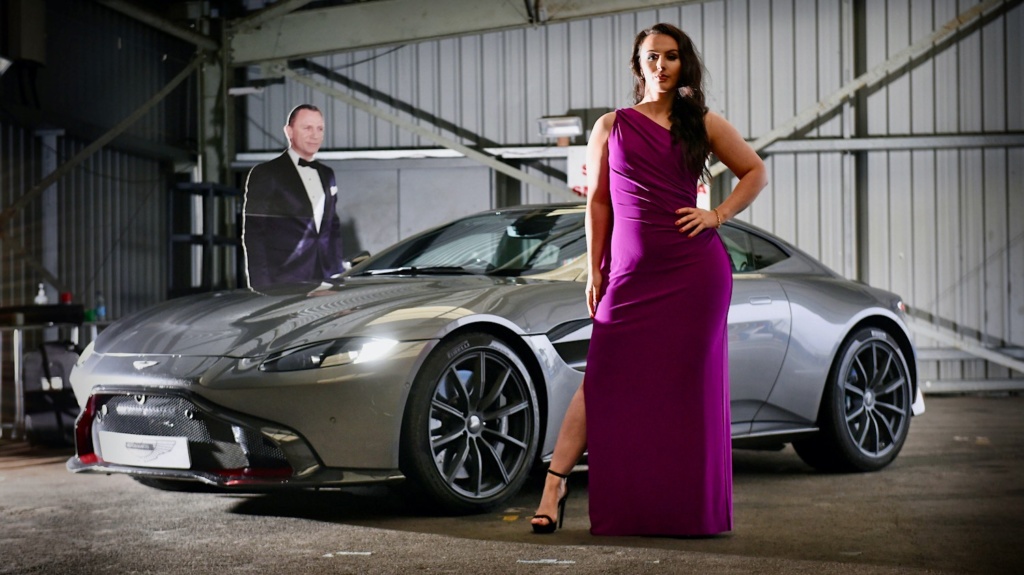 By Maggie Barry
James quivered and stood still – very still. In front of them was the car Bond lusted after- an Aston Martin Vantage in his own colours – and Violent had possession of.
He thought the Aston was his – she knew it was hers. "I'm glad you came Mr Bond," she said. "I'm looking forward to it," he intoned with a smirk. "Just you and me this time – no devices," she added.
"This time I'm doing the shaking and stirring," she told him. "And you're in the passenger seat."
With that she took the flat bottomed steering wheel, thrust the car into drive and as James fell back against his luxurious sports seat, she put her foot down and the car thunderballed off from 0-62mph in just 3.5 seconds.
"Well you've certainly got me in your grip now Violent," murmured Bond as the needle of the speedometer steadily rose. The Aston Martin Vantage has a 4.0-litre V8 turbocharged engine with 503bhp and a top speed of 195mph.
The quad exhaust pipes sit below a lean fastback and a button on the steering wheel allows you to enhance their soundtrack.
"I've always been partial to a woman who knows how to manipulate her fast side," Bond added, as the Aston slewed around corners and took the hairpins before opening out on the straight offering the best view of the amazing bodywork.
In tactical specification, this car has been designed to bring Bond… Read more