Jimena Olazar – Argentina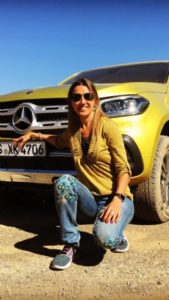 Jimena Olazar has over 20 years' experience in the automotive field. Started as journalist for the high-profile newspaper, Diario Clarin and conducted two television programes for El Garage TV. She also edited the magazine Noticias Sobre Ruedas and participated in a weekly radio magazine on Radio Mitre.
She then became the communication manager for CESVI (Centre for Experimentation and Road Safety). The company investigates and analyses road safety in cars and conducts crash tests under the protocol of the Research Council for Automobile R (RCAR). She was in charge of national and international media for Crash Test magazine and Crash Test TV, as well as handling social media aspects.
Later in 2018 Jimena was invited to be part of Agencia Nacional de Seguridad Vial (ANSV), (National Road Safety Agency) that belongs to the Ministry of National Transport in Argentina. She led the Strategic Communication team in charge of delivering Content and Planning strategies with nation wide responsibility
Today following equality and inclusion trends, she is the perfect fit in Mujeres al Volante (Women behind the wheel), a multi platform community that since 2009 reflects the feminine spirit of women in automotive world and whose main mission is to help women drive and lead their lives. Jimena is in charge of producing and communicating content related to the industry.