Ariadne Girasimidou - Greece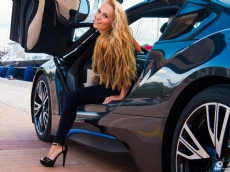 Ariadne has worked for the biggest magazines, newspapers and websites in Greece including Auto Motor and Sport & and Sport Auto magazine (where she started her career 15 years ago); the number one website in Greece NewsAuto.gr, Proto Thema newspaper, Alpha 98.9 radio as producer and she directs her own videos until today. 
She worked as a television hostess on a Formula 1 Grand Prix pre-show for the Greek channel, Alpha TV in 2015 and 2016.  
Nowdays she is automotive editor in chief in SDNA.gr, automotive editor in Menshouse.gr and journalism teacher in KAR Edu. Besides, she is Social Media Video Presenter and she operates one of the biggest  car safety project in Greece, #SafetyFirstGR.
She is one of the few women motoring journalists in Greece and has joined the jury of Women's World Car of the Year in 2017. Her love of cars comes from her father, even if he never thought she would turn that passion into a career. "It has been a fantasy since I was a child to be doing what I do so it is a dream come true and I love it," she says.
In the 15 years she has been on the car industry she estimates she's tested more than 1200 new car models in Greece and other countries.
Her social media have more than 30k followers.