WWCOTY presents Peugeot with its award for Best Car of the Year at an exclusive ceremony in Paris with Linda Jackson
– Women's World Car of the Year jurors travel to Paris to present Peugeot with their Supreme Winner award
 – Executive President Marta Garcia hails it as an historic moment
– Peugeot boss Linda Jackson says the award is proof Peugeot is going in the right direction
– Peugeot invite jurors to an exclusive reveal of a new model
May 2022
Ten journalists from Women's World Car of the Year travelled to Paris to present their ultimate accolade to Peugeot boss Linda Jackson in what WWCOTY Executive President Marta Garcia described as an 'historic moment'.
Peugeot's new 308 took top honours this year in WWCOTY when it fought off competition from 65 other cars worldwide to be named Supreme Winner. The  culmination of a year of testing, assessing and voting on scores of cars from across the globe came at an intimate awards ceremony in the French capital when Jackson accepted the trophy on behalf of Peugeot.
WWCOTY Executive President, Garcia said: "This is an historic moment because it is the first time in the thirteen years history of the WWCOTY that the Supreme Winner is awarded to a company led by a woman. But that's not why the WWCOTY is in Paris. It's because the 308 has been voted the best car in the world by women motoring journalists from five continents. The Peugeot 308 is a global and down-to-earth car – a vehicle that meets the needs of buyers from young people to families to veteran drivers."
Jackson replied: "This award is a source of great pride for the entire Peugeot team and it nurtures our motivation for all our future endeavours: we see that our efforts pay off.
"Indeed, it is a double honour to receive this award:
"It is first and foremost the honour of having the brand Peugeot recognised by international journalists who are true, genuine automotive experts. And it is the honour of being recognised by a jury of all-female journalists. I am delighted to see that women play a more and more important role in our industry. Thanks to this type of award, we know that we are moving in the right direction."
The ten were representing the jury of almost 60  women motoring writers from more than 40  countries who had taken part in the voting first on a longlist and then on a shortlist from which the 308 ultimately snatched victory after having been judged on safety, quality, price design, ease of driving and environmental footprint.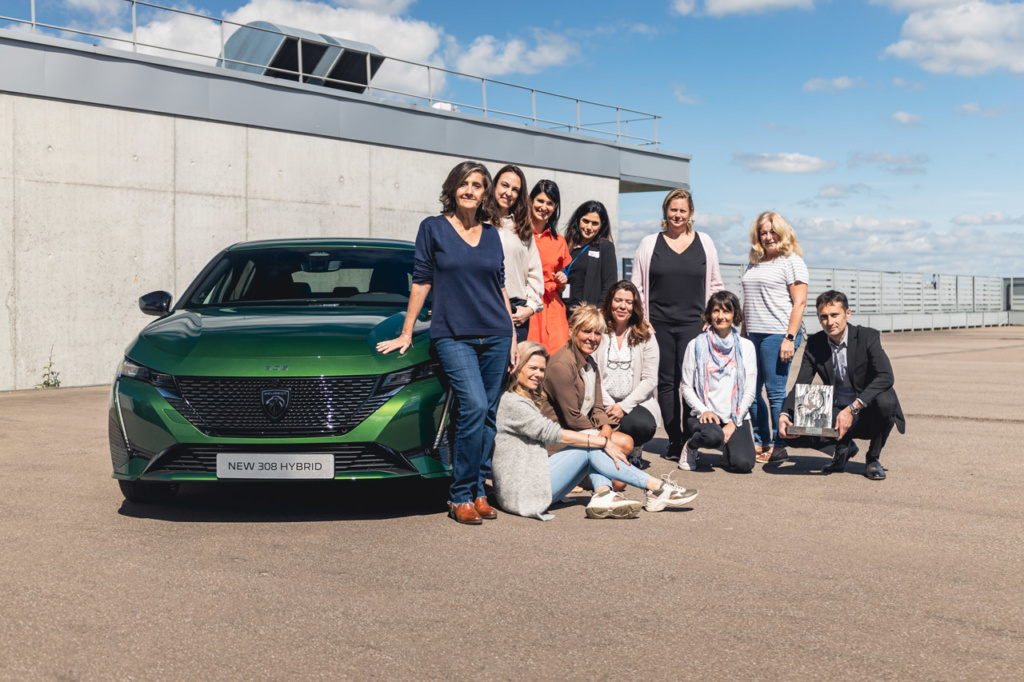 Mazda ceremony award at Dubai
November 2019
El Dubai World Trade Centre ha acogido y reunido mujeres periodistas de españa para la feria más importante relacionada con el mundo del motor en todo Oriente Medio y Norte de África. La decimoquinta edición ha estado protagonizada por el reconocimiento que cada año el Women's World Car of the Year otorga a los mejores coches del año.
Compuesto por 40 mujeres automovilísticas mujeres periodistas de españa y de todo el mundo, este jurado evalúa, prueba y analiza en profundidad los modelos que se comercializan cada año para decidir cuáles son los mejores.
En esta edición, el máximo ganador, el mejor coche del año según el Women's Word Car of the Year, fue el Mazda 3, un compacto de 4,4 metros de longitud.
Sandy Myhre, presidenta de honor del jurado, y Shereen Shabnam, jurado de Dubai, presentaron el acto.
Women's World Car of the Year at 4×4 Fest 
October 2019
Six women motoring journalists were present at the festival and with their own stand. They were all jury members of Women's World Car of the Year, the only car awards in the world voted entirely by women.
The women journalists were Ilaria Salzano (Italy), Solveig Grewe (Germany), Marta García (Spain), Carla Ribeiro (Portugal), Ariadne Gerasimidou (Greece) and Charleen Clarke (South Africa). The car featured on their stand was the Volvo XC40 which won the 2018 Supreme Award in Women's Worlds Car of the Year. They spoke to an audience in the Mud Café during the event and were available to talk to any member of the public who visits their stand.
The attendance of the jury members from Women's World Car of the Year is part of a parcel of activities especially designed to appeal to women at the Festival. The jury members talked at the Mud Café over the festival weekend. Moderator was Italian judge, Ilaria Salzano, who asked the women journalists to outline the nuances of all-wheel-drive and the safety aspects of off-road driving. They also discussed the reasons why the Volvo XC40 won the 2018 Women's World Car of the Year and outline the voting procedures for 2019.tjhe